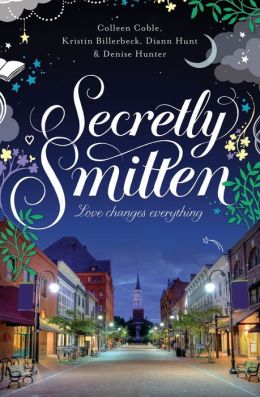 By Colleen Coble, Kristin Billerbeck, Diann Hunt & Denise Hunter
Secretly Smitten
is the second romance collection written by popular authors and real life best friends Colleen Coble, Kristin Billerbeck, Diann Hunt, and Denise Hunter.

These collections are built around the fictional town of Smitten, Vermont, a dying lumber community.

In the first book, Smitten, a close-knit group of women business owners come up with a plan to save Smitten:

capitalize on its name and turn it into a romantic tourist destination.

Secretly Smitten continues this theme and introduces us to more friends and family in the charming town of Smitten.
Description:
There's a secret in Grandma Rose's attic—a forgotten set of dog tags belonging to her first love. But David Hutchins was killed in action and never returned to Smitten. How did the dog tags end up in the attic?
The mystery intrigues Rose's three granddaughters—Tess, Clare, and Zoe—and they decide to investigate, though their mother, Anna, warns against meddling. But as the seasons turn and the mystery unravels, the three young women and their mother encounter some intriguing mystery men of their own. Has a sixty-year-old puzzle sparked something new for this close-knit family of women?
My thoughts:
I've always found romance novellas a great way to relax, and the New England setting of Smitten, Vermont would be hard for me to pass up.
The cover art beautifully pictures this quaint and charming town.
Secretly Smitten
focuses on the lives of the Thomas family:
Grandma Rose, her daughter Anna, and Anna's three daughters - Tess, Clare and Zoe.
The authors did a good job with continuity in their stories, and I particularly liked how the mystery of Rose's first love, who apparently had died during the Korean war, continued throughout.
I also like it when a storyline focuses on an older adult, as Diann Hunt did with Anna and Michael's romance.
An interesting twist that I enjoyed in this story is that Anna, owner of a knitting shop, invests in a few sheep so she can offer a spinning class.
Each novella reached a satisfying conclusion, but they felt a little unfinished.
Novellas are limited in length, so this could be expected.
I hope the next book gives a little more follow up, though.
For those, like me, who have not read the previous book, this book works well as a stand-alone collection.
Previous characters are only mentioned in passing.
Secretly Smitten
is a cute, light and enjoyable read.
I would recommend this book to all who enjoy light romance collections with a small-town feel.
The third book in this series,
Return to Smitten
, is scheduled to release in January 2014.
For more information about this series, visit the Smitten website at http://www.smittenvermont.com/
This book was provided by Thomas Nelson through the BookSneeze program in exchange for my honest review.