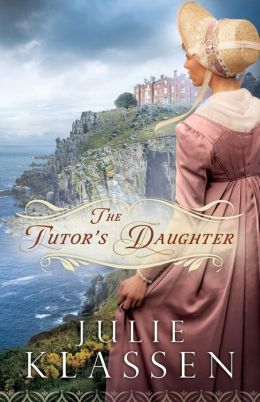 By Julie Klassen
The Tutor's Daughter
, a historical romance by award-winning author Julie Klassen, draws the reader into a Regency era full of mystery, romance and drama.
Cornwall, England setting, dysfunctional family with secrets, manor home on high cliff overlooking scenic coast and village harbor, shipwrecks, a mysterious ward, mysterious music at night - these elements and more combine to make an interesting period drama with gothic overtones.
Emma Smallwood, determined to help her widowed father regain his spirits when his academy fails, agrees to travel with him to the distant Cornwall coast, to the cliff-top manor of a baronet and his four sons, two of whom were former students. But after they arrive and begin teaching the younger boys, mysterious things begin to happen and danger mounts.
The baronet's older sons, Phillip and Henry, wrestle with problems - and secrets - of their own. They both remember Emma Smallwood from their days at her father's academy, where she had been an awkward, studious girl. But now one of them finds himself unexpectedly drawn to her.

I have no idea if Julie Klassen has ever read gothic romances by authors like Victoria Holt and Mary Stewart, but
The Tutor's Daughter
harkens back to that style and I enjoyed it very much.
Julie has a gift for creating interesting characters and a sense of place. Henry and Emma's romance grows slowly throughout the story.
Cornwall always makes me think of rough seas and shipwrecks, and these were a big part of the story.
Julie mentions a Mr. Trengrouse, a real person from the Cornwall area.
"After witnessing the drowning deaths of over one hundred men during a shipwreck, he devoted his life and fortune to the invention of lifesaving equipment."
It surprised me that some of the people fought Henry's efforts to organize lifesaving crews and techniques, preferring to salvage wreckage for their own gain.
The character of John Bray, local constable and salvage agent, is also drawn from real life.
The brave actions of the real John Bray inspired the scene where Henry rode his horse into the ocean to rescue shipwreck victims.
Adam, Henry's older brother with mental disabilities, was one of my favorite characters.
Apparently it was commonplace during that time to conceal any imperfect members of one's family.
It was touching that Henry, who remembered Adam from childhood, wanted to care for him.
I also enjoyed the part that music played in this story and thought Julie did a good job describing Adam's musical genius.
The only negatives for me were that the pace seemed slow at times, especially during the first half of the book, and I felt that it could have been shorter, the writing tighter in its flow.
Henry was a strong and likeable character, but I would have liked to see more interaction between Henry and Emma as their romance developed.
While I didn't enjoy this book quite as much as some of Julie's previous books, it was still an excellent read and I recommend it to those who like historical Christian fiction.
I look forward to Julie's next book,
The Dancing Master
, which is scheduled to release in December 2013.
For more information about Julie and her books, go to julieklassen.com.
This book was provided by Bethany House through NetGalley in exchange for my honest review.