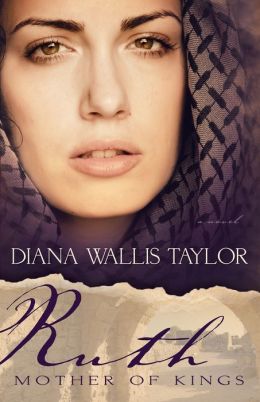 Publisher's description
The story of Ruth has captivated Christian believers for centuries, not least of all because she is one of only two women with books of the Bible named after them. Now, Diana Wallis Taylor animates this cherished part of the Old Testament, with its unforgettable cast of characters. Experience Ruth's elation as a young bride—and her grief at finding herself a widow far before her time. Witness the unspeakable relief of Naomi upon hearing her daughter–in–law promise never to leave her. And celebrate with Boaz when, after years as a widower, he discovers love again, with a woman he first found gleaning in his field. The story of this remarkable woman to whom Jesus Christ traced His lineage comes to life in the pages of this dramatic retelling.
My thoughts
I enjoyed Diana's fictional adaptation of the familiar story of Ruth. Biblical fiction is just that - fiction - so there will always be some differences from the actual biblical interpretation, as well as the imaginative fleshing out of characters' lives. In the case of Ruth, Diana portrays her as a Jewish woman living in the land of Moab, rather an a Moabite woman as many have always thought. That difference did not detract from the story for me, however, because biblical scholars never agree. And Diana gives a Scriptural basis for her interpretation in the background section at the end.
The narrative flows easily and held my interest throughout. A strength of Diana's writing is her vast knowledge of Jewish culture and her ability to beautifully convey that in a fictional setting. I especially enjoyed the wedding scenes between Ruth and her first husband, Mahlon, and later Boaz.
By marrying Mahlon, Ruth was joined to the house and tribe of Judah, designated as the lineage of the promised Messiah. "Every woman in the tribe of Judah, when she birthed a son, prayed that he would be the one - the Messiah promised through the centuries since Abraham."
Diana did an excellent job at fleshing out a familiar story with interesting characters, rich cultural details, and a sweet love story between Ruth and Mahlon, and later Boaz. The narrative ends with the joyful birth of Obed, grandfather to King David.
Other than the question of Ruth's nationality, which is open to interpretation, I believe the narrative holds close to the Scriptures. I found Ruth's story to be inspirational and recommend Ruth, Mother of Kings to all who enjoy biblical fiction.
And Obed begat Jesse,
and Jesse begat David, King of Israel . . .
Diana Wallis Taylor
To learn more about Diana and her novels, visit her website at
dianawallistaylor.com.
This book was provided by FIRST Blog Tour and Whitaker House in exchange for my honest review.