Moon Over Edisto
by Beth Webb Hart is a stand-alone novel that beautifully captures the sights, smells and tastes of South Carolina's Lowcountry as the backdrop for this complex and moving drama involving the dysfunctional Bennett family. My attention was captured from the very beginning of this well-written novel.
Summary
Once, they were the happiest family under the sun, crabbing and fishing and painting on beautiful Edisto Island in South Carolina's
L
owcountry.
Then everything went wrong, and twenty years later the Bennett family is still in pieces. Mary Ellen still struggles to understand why her picture-perfect marriage came apart. Daughter Meg keeps a death grip on her own family, controlling her relationships at a distance. And eldest daughter, Julia, left it all behind years ago, forging a whole new life as an artist and academic in Manhattan. She's engaged to an art dealer and has no intentions of returning to Edisto. Ever.
Then an emergency forces Julia back to Edisto to care for her three young half-siblings. She grudgingly agrees to stay a week. But there's something about Edisto that changes people.
My thoughts
I was drawn to this story because it seemed to fit two of my interests - southern fiction and relationship drama - and it certainly did not disappoint. South Carolina's Lowcountry and Edisto Island are so vividly described and become such an integral part of the story that they are elevated to character status - traditional southern cuisine, the Ravenel bridge, salt marshes, winding streams, and "massive live oaks, their Spanish moss waving in the light evening breeze from the creek."
Ravenel bridge, Edisto Island
This story is all about the Bennett family, a family Julia describes as "Southern Gothic Dysfunction." Instead of looking at how a seemingly loving marriage disintegrated, Moon Over Edisto focuses on the lingering effects of betrayal and desertion on the ones left behind, for it's always the innocent who are most affected.
Characterization is rich and complex. The older sister, Julia, tried to cope by running away and starting a new life in New York, though often haunted by panic attacks and bouts of depression. Meg - feeling that her father was a fool, while her mother had no clue - became harsh and legalistic, wanting justice for the guilty ones rather than grace, to the extent that her own marriage was threatened. Meg "realized how very worn out she was. How exhausting it was to wear her masks, to build her reputation, to prove to the world day in and day out that even though her parents were fools, she was not. She was a responsible, morally upstanding citizen. She could be counted upon. She was worthy of admiration. She would not shame her husband or falter in any way. She had the blessed life, and she would not squander it. Or would she?"
The three children from their father's other family simply captured my heart, especially Etta, who only talks to her little brother. I love how Beth uses art in this narrative, as Julia and Etta discover a shared talent. One day, Julia sees Etta's sketch of their father:

"This young girl had captured something true about him. Something in his rich brown eyes that could only be described as love. How could someone with eyes like that cause so much damage?"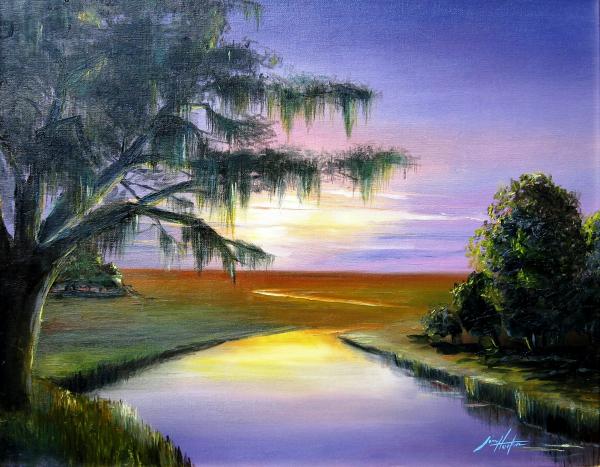 Although the ending is upbeat and satisfying, this is not a story where everything is tied up neatly, nor should it be. If I wished for anything, it would be a longer ending, but that in no way detracts from this powerful novel. There is a strong spiritual message, but rather than being overt, it is embedded in Julia's heart and actions. Julia's character occasionally uses the phrase, "Lord have mercy, Christ have mercy," and these words seem to have so much more feeling and depth at the end.
I am so glad that I discovered Beth Webb Hart's work. Moon Over Edisto is a very moving novel with great depth, and I recommend it highly. I suspect many readers, especially those touched by divorce, will find that this story speaks to them.
In Beth's words (taken from her website) . . .
I believe in the power of stories to illuminate truths. Sometimes they are half-truths. Sometimes they are the full-truth, the whole picture. For instance, a story without suffering, pain and even more importantly, conflict, does not accurately represent the human experience, in my opinion. And likewise, a novel whose end goal is to solely depict despair and hopelessness has missed the (truth) mark as well.
I like a book that takes everything away from a compelling yet flawed protagonist. Books that level someone's life, leaving them in a very dark room. But to keep them in the dark room wouldn't be reality, as I've come to know it. In fact, it's in the dark room, it is in the most desperate of situations, that the slant of light inevitably pierces through the blackness, isn't it? Hope in spite of hopelessness, white-knuckled love, and most importantly grace and all of the mystery and life-altering realities that surround the whole notion of unmerited love, these are the topics I relish in a book because they most accurately reflect the true human experience.
To learn more about Beth and her novels, visit her
website.
This book was provided by Thomas Nelson through NetGalley in exchange for my honest review.